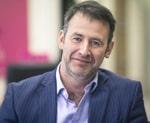 As enterprise becomes more data-driven, the jobs market for big data expertise and experience is growing at an exponential pace. This is a fantastic area to be in – not only is it fascinating, but according to Harvard Business Review, Data Science is the sexiest jobs sector of the 21st Century : )
I'm Gary, a Senior Consultant with Prosperity Digital Recruitment. I specialise in the recruitment of high calibre data professionals across the full suite of industry sectors.
If you currently have a role you would like to fill, pick up the phone to me - 01 544 8723 - or if you are looking for a role, please mail me on the link below and I will be in touch . . .